Therapeutic Modal Improvisation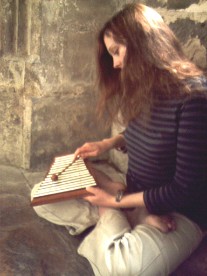 Following on from the success of our recent publication "Balance Your Mind with Ancient Musical Modes", we are now offering one-to-one courses in simple therapeutic modal improvisation. We can also teach in small groups.

You will learn ancient techniques for using musical modes to balance the mind and emotions. You will learn how to improvise or compose simple modal melodies on any instrument of your choice, (although some instruments are more suitable than others). And you will learn how to select the best mode for the psychological effect you want to create: whether you want to wind down for sleep, focus your mind for study or meditation, or perhaps prepare your mind for some challenging situation.

Course participants may bring their own instruments or use ours. Singers are also welcome but they should have a good sense of relative pitch otherwise they will not be able to master the modes without the help of an instrument.
Instrumentalists will find that, even with a beginner's level of skill, (or even none at all !) they can cope quite happily with the modes and modal improvisation.
Contact us HERE.